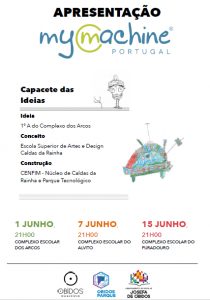 We are very excited to announce the MyMachine Portugal 2018 exhibition: just like last year, the exhibition is a 3 week exhibition, moving to three different schools and each time opening at 21h00:
1 June 2018 in complexo escolar dos Arcos
7 June 2018 in complexo escolar do Alvito
15 June 2018 in complexo escolar do Furadouro.
Each opening event is a joyful festivity with all the children involved who bring their parents and sometimes grandparents with them. They are very proud to show the end result of a long year of hard work: the elaborated working prototype of the dream machine that they invented.
And you are invited! Please join us on one of these dates!