There's 3 extraordinary reasons to be at the MyMachine Flanders (Belgium) 2018 Exhibition Opening Event on June 26th in Technopolis Mechelen (Belgium):
1. Some 650 child-inventors and students from all over the country will be there to visit the exhibition. As they have been co-creating their own dream machine with their classroom in the current school year, they will discover at the exhibition that there were other classrooms as well working on their dream machine! In total elaborated 12 dream machines will be on display.
2. Agoria, the Belgian Federation of Technology Industry, will be there as well with hundred of business leaders to have their annual meeting. This gave us the idea to host a conference on the future of education.
3. And no other then Tom Vander Ark (Seattle, USA), leading voice of education in the USA, will deliver a keynote speech:
Artificial Intelligence Changes Everything– It's Time for a Conversation
We're a couple years into a new era, the one that follows the 40 year information age. This new era is being shaped by code that learns and increasingly automates and infiltrates every aspect of life. Exponential technology, and its collision with natural systems, is producing waves of novelty and complexity that demand design thinking, relationship skills, and entrepreneurship.
In his keynote, Vander Ark will discuss the future of work, new skill priorities, and how to transform schools. Tom will suggest that it's a good time for a community conversation.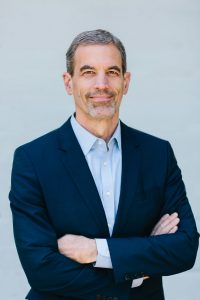 Tom Vander Ark is an advocate for innovations in learning. As CEO of Getting Smart, he advises school districts and networks, education foundations and funders and impact organizations on the path forward. A prolific writer and speaker, Tom is author of Getting Smart, Smart Cities That Work for Everyone, Smart Parents and Better Together and has published thousands of articles, co-authored more than 50 books and white papers. He writes regularly on GettingSmart.com, LinkedIn, and contributes to Education Week and Forbes.
Previously he served as the first Executive Director of Education for the Bill & Melinda Gates Foundation. Tom served as a public school superintendent in Washington State and has extensive private sector experience. Tom co-founded the first education venture fund, Learn Capital. Tom is Board Chair of Charter Board Partners, Director for 4.0 Schools, Digital Learning Institute, eduInnovation and Imagination Foundation and Advisor for One Stone, Teton Science Schools and Whittle School & Studios.
Program:
11h00
welcome by Piet Grymonprez – Co-Founder & Managing Director MyMachine Global Foundation and Peter Demuynck – Director Agoria Flanders
11h10
Visit to the MyMachine Flanders & Brussels Exhibition
12h00
Keynote by Tom Vander Ark
followed by five 7 minutes talks, including Lisa Vromman – MyMachine Alumnus of Howest University of Applied Sciences
13h15
Network lunch
We are very much looking forward to it. And you are invited! Thanks to Agoria, the event is for free, but you need to register here: MyMachine Register for the 2018 Exhibition Opening Event.