Established in 1958, The Australian Good Design Awards are the highest honour for design and innovation in the country.
MyMachine is recognised in Australia's International Good Design Awards for Excellence in Design and Innovation, and received this prestigious award winner accolade, not in one, but in two(!) categories: Social Impact and Service Design.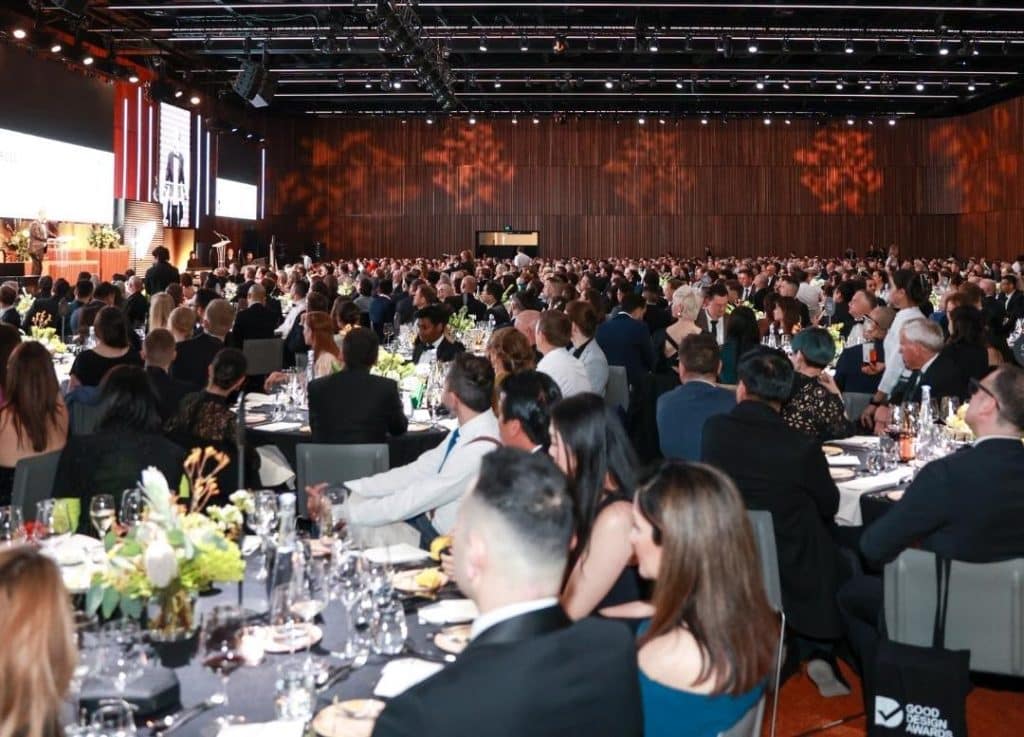 This extraordinary news was announced at the 2023 Australian Good Design Awards in front of more than 1000 guests from the global design and architecture community. Dr. Brandon Gien, CEO of Good Design Australia and Chair of the Australian Good Design Awards: "The Good Design Awards are the highest honour for design and innovation in the country. Each year, the Awards celebrate the best new products and services on the Australian and international market, excellence in architectural design, engineering, fashion, digital and communication design, and reward new and emerging areas of design, including design strategy, social impact design, design research and up-and-coming design talent in the next-gen category".
The 2023 Good Design Awards attracted high-quality design projects from Australia and around the world. After a rigorous three-stage judging process and months of rumination from some of the most prestigious minds in the international design sphere, these innovative projects were evaluated by more than 70 Australian and international Jurors, including designers, engineers, architects and thought leaders. More than 900 entries were evaluated according to a strict set of design evaluation criteria, which includes Good Design, Design Innovation and Design Impact.
The Good Design Awards Jury commented: "Wow! MyMachine has designed an amazing program and model for delivering a much-needed approach to thinking and skillset development for children and students around the world. We are greatly impressed by the design process and deliverables of the MyMachine methodology. Congratulations on your work; definitely an example of good design at work in the world."
"To be recognised with an Australian Good Design Award tells the world that MyMachine not only represents design excellence, but they also surpasses the criteria for design innovation and design impact. The Good Design Award is an independent endorsement of professional design quality," said Dr. Brandon Gien, CEO of Good Design Australia and Chair of the Australian Good Design Awards.
The Australian Good Design Awards is the country's oldest and most prestigious international award for design and innovation, with a proud history dating back to 1958. The 2023 Awards celebrated 65 Years of Good Design since the founding organisation behind the awards – the Industrial Design Council of Australia (IDCA) was first established.
"It is incredible to see how design has changed over the past 65 years. While we celebrate this important milestone for Australian design, we also pay our respect to the oldest living designers on this planet who have been designing and creating for more than 65,000 years. We have such a deeply rich and diverse design culture in Australia to draw and learn from as we shape the next 65 years of design," said Dr. Gien.
"The Award-winning projects from this year's Good Design Awards are truly ground-breaking. We are proud to continue the legacy of celebrating design, and designers making a positive impact on our world. The Good Design Awards showcase what true design excellence looks like, to inspire others to greatness – that's exactly what these Awards are about," said Dr. Gien.
"To receive such recognition is an immense honor for us. We are therefore extremely honoured. And it gives us another push to continue realizing our mission: to make as many students as possible realize that their own ideas have the right to be taken seriously, to explore them. That is the core of entrepreneurial action, which is the solution to almost all challenges we face as people and as a society.
On behalf of my co-founders and me, a very special thank you to all students and educators who are involved in MyMachine. And to the MyMachine Global team in all countries in which we operate! Our MyMachine coordinating teams are passionate high level professionals giving their all to deliver this unique and impactful experience to students around the world! It is because of them that it actually happens. ", says Piet Grymonprez, Co-Founder & Managing Director of the MyMachine Global Foundation.