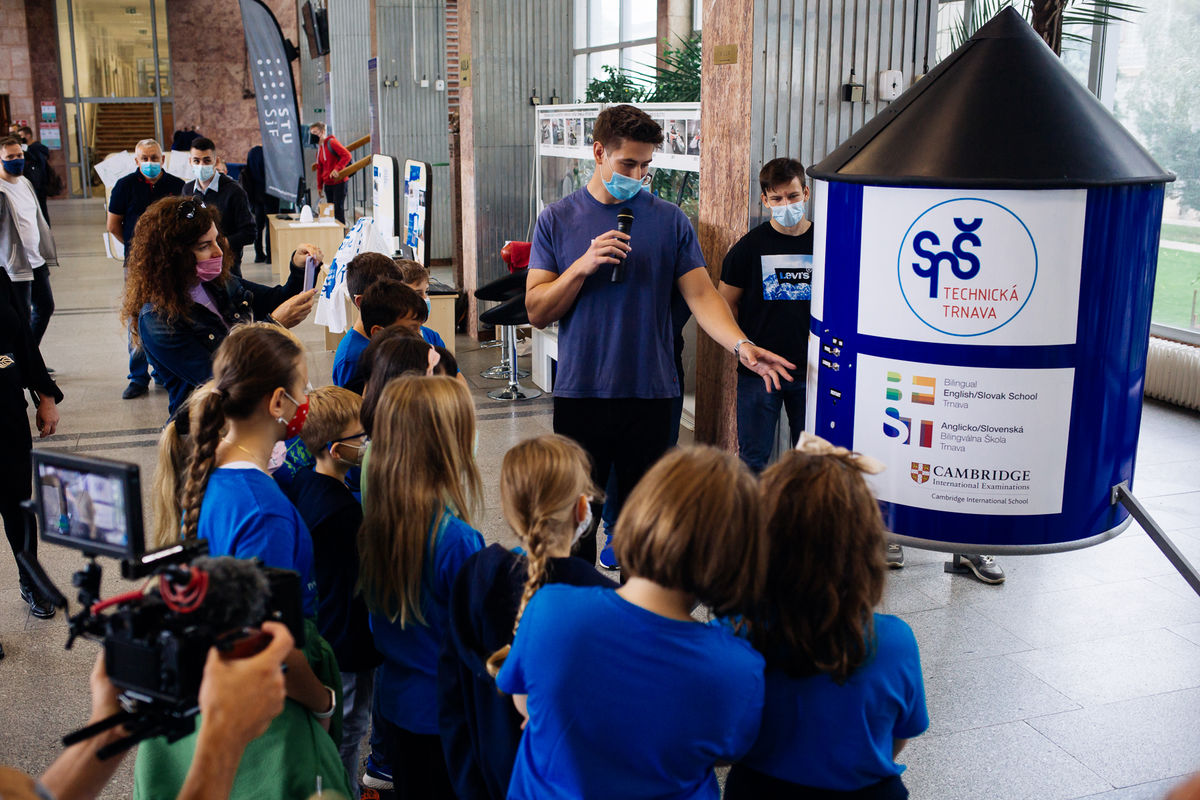 Photo: Renáta Černayová – T
he travel rocket that will transport them to four places on Earth.
The MyMachine Expo at the Faculty of Mechanical Engineering of the Slovak University of Technology in Bratislava united all primary, secondary, and higher education students to test the prototypes. "Today, robots are used not only in production, services and transport but also in the kitchen, for example. You all also designed some robots," said the dean of the Faculty of Mechanical Engineering STU Ľubomír Šooš to the children. He admires all the creators and is convinced that even among the students who participate in MyMachine Slovakia are innovators and, for example, future designers.
Amazing dream machines were invented, like the travelling machine that allows you to fly to Paris, London, New York or Shanghai. For the traveller to feel that he got where he wanted, a surprise awaits her/him inside. "Lithographic images from the selected city will light up," explains one of the designers, student Daniel Tóth. "Production took several months, and it was longer than we wanted," he said. In the end, however, they were successful.
Other ideas are the 3D printer printing chocolate. Students of the Secondary Industrial School of Mechanical and Electrical Engineering in Komárno turned the dream into reality. The authors of the technical university say that modifying the 3D printer so that it does not print plastic, but the chocolate, was their credit task. The production took about 200 hours. Among the students who came to see the inventions, the chocolate printer was the most successful.
Or how about the idea of ​​students from the Bratislava International School Brilliant Stars to simplify everyday life. "The children said they would want a robot that brushed their teeth because they were lazy to do it themselves. So we invented a helmet for cleaning teeth, on which a brush is mounted, and the child can control it with a joystick, "says one of the authors of the third invention Samuel Jankove from the Faculty of Mechanical Engineering STU. They collaborated with students from the Karol Adler Secondary Industrial School of Electrical Engineering in Bratislava.
Obviously, MyMachine is not about creating prototypes. It's all about building Creative Confidence. Showing all students involved that their ideas matter! That their ideas can make a difference! And that you can bring any idea to life by collaborating, respecting each other's talents, being persistent and resilient. Thank you so much to all students involved, their educators and the MyMachine Slovakia team!