It is with tremendous pleasure that we announce today that MyMachine is growing again: welcome MyMachine Hrvatska (Croatia)! We are proud and thrilled to partner with the Institut Poduzetničkog Obrazovanja i Inovacija (IPOI) in Zagreb. IPOI is the Croatian Institute of Entrepreneurial Education and Innovation. The institute is founded to ​​develop and strengthen skills and attitudes that enable the implementation of creative ideas primarily within the country's young population. MyMachine fits right in there.
Zrinka Valetić, President of IPOI:
"IPOI is proud to be part of MyMachine Global by introducing it in Hrvatska (Croatia). MyMachine Hrvatska will work with new generations of innovators to deal with a challenging future."
IPOI is taking the lead in implementing MyMachine Hrvatska throughout the country, but will be assisted by the faculty of Architecture of The University of Zagreb and Fablab Hrvatska (Croatia). To support this combined efforts, Zrinka Valetić, President of IPOI, Bojan Baletić, Dean of the Faculty of Architecture, and Roberto Vdović (who initiated the link between MyMachine and Hrvatska), President of Fablab Hrvatska, have signed a collaboration agreement to join efforts in establishing MyMachine Hrvatska.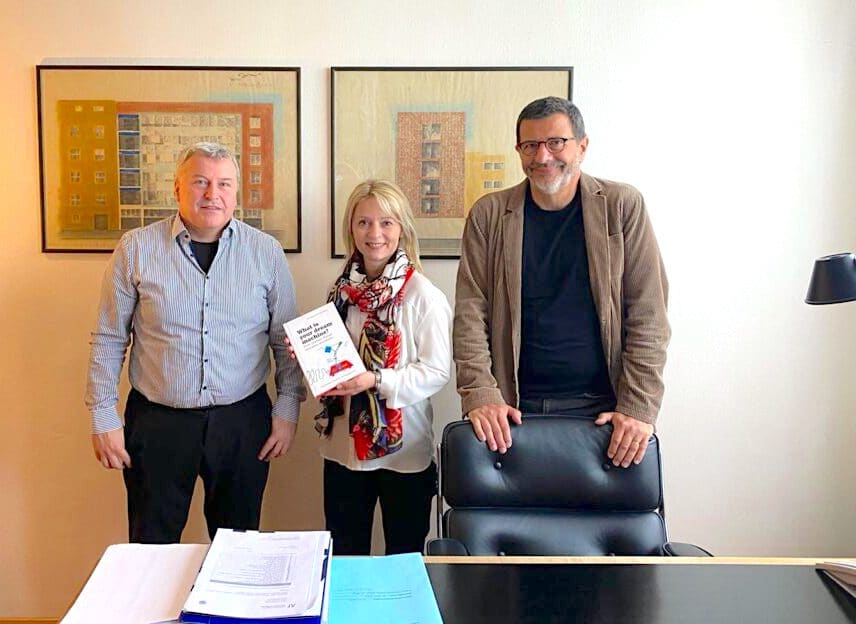 Roberto Vdović, Zrinka Valetić, Bojan Baletić.
We are honoured to have IPOI as our partner, as we are equally engaged in teaching young people the positive power of the "Yes this is possible!"-attitude towards all of their ideas. Bringing students creative confidence, making sure they understand that their ideas matter, that their ideas can make a difference!
And no better place than Croatia (Hrvatska) to build this creative confidence. In this country, in the village called Smiljan, one of the most outstanding engineers ever was born: scientist Nikola Tesla. His legacy is probably the most extended ever list of scientific breakthroughs from one inventor only, which is profoundly shaping the modern world we live in.
We know for sure that we will learn from the expertise of IPOI and its partners. They are keen to launch their first MyMachine cycle later this year. We are anxious to learn about the first dream machine ideas coming from MyMachine Hrvatska!